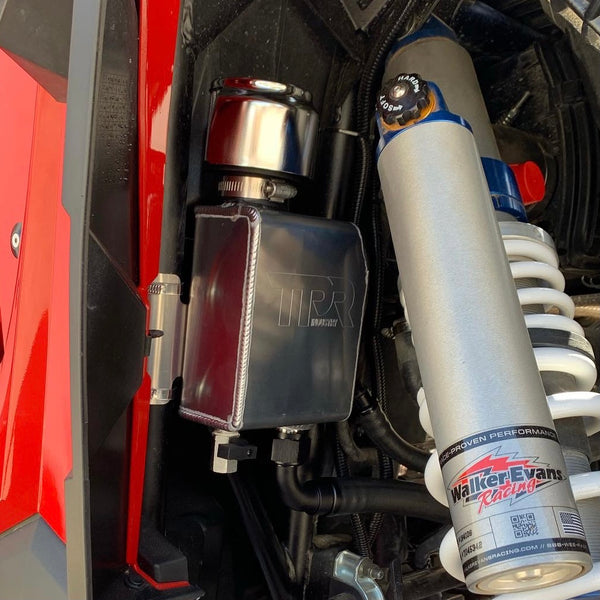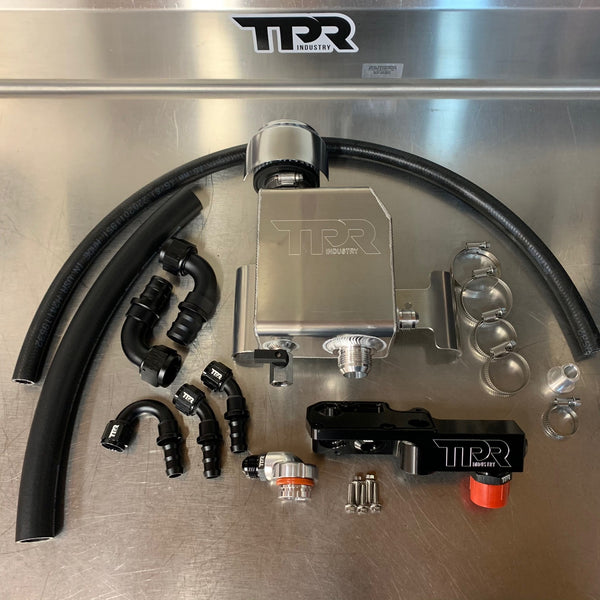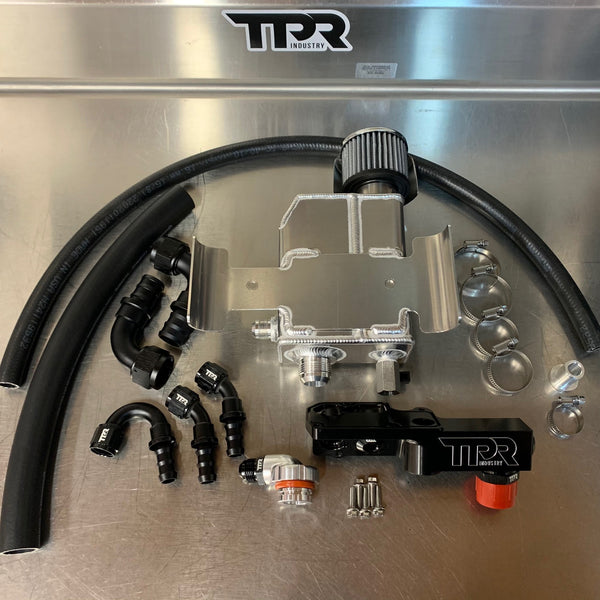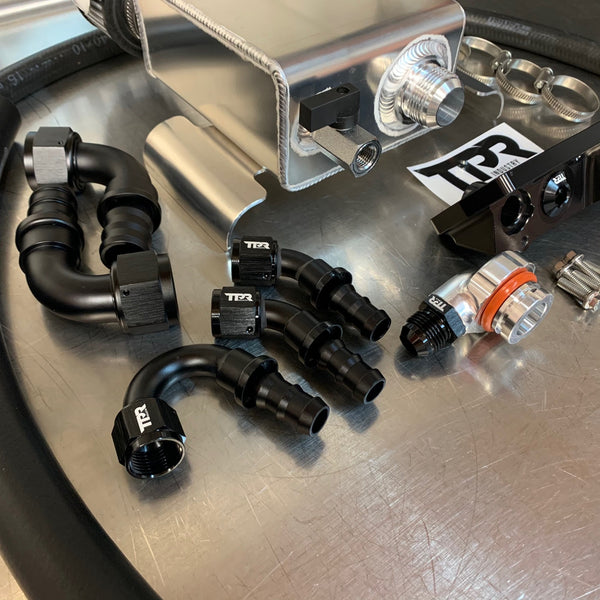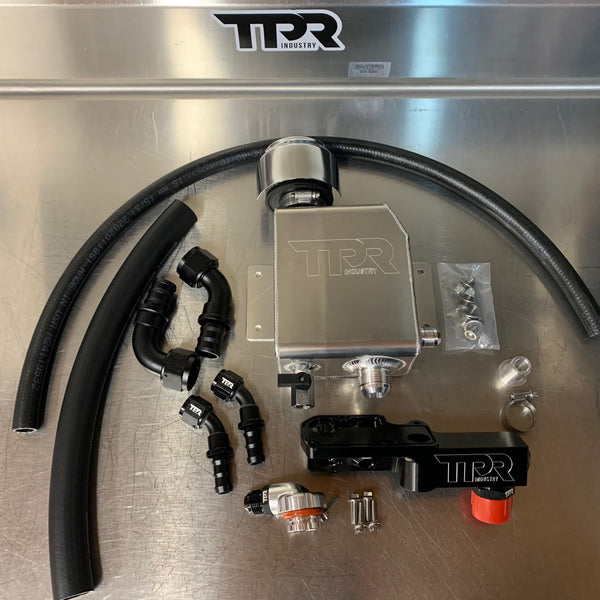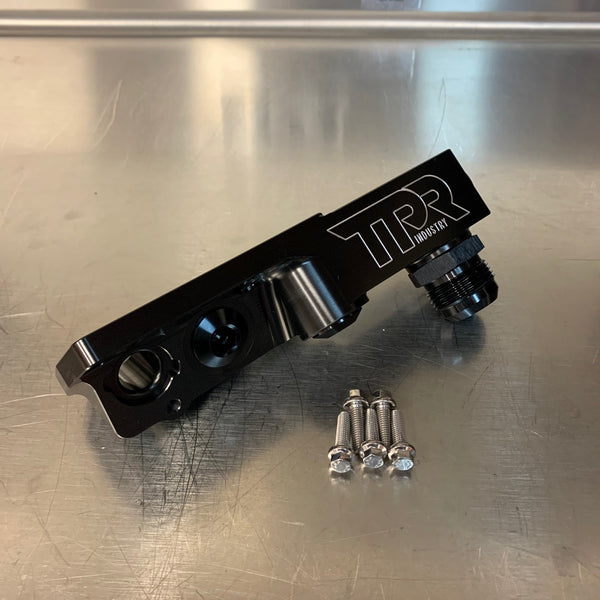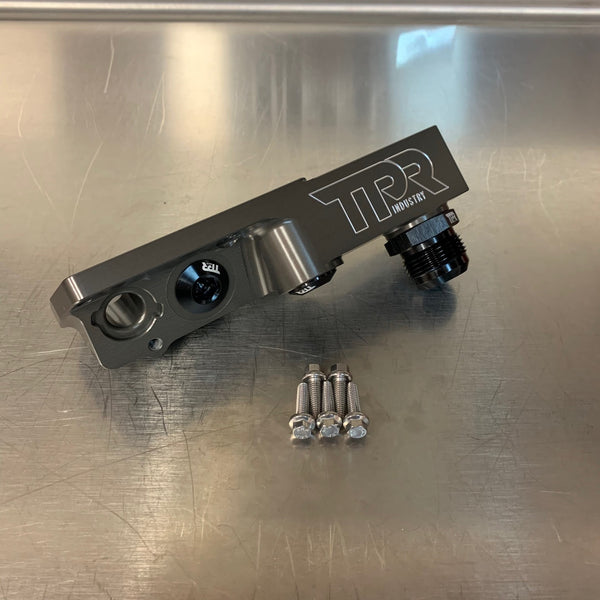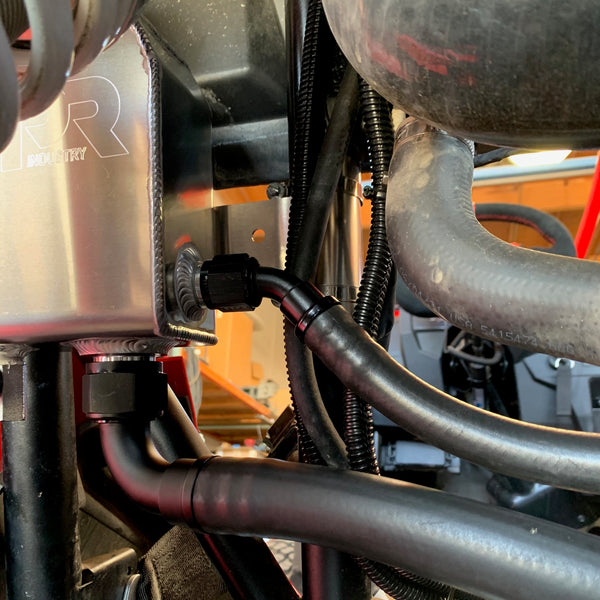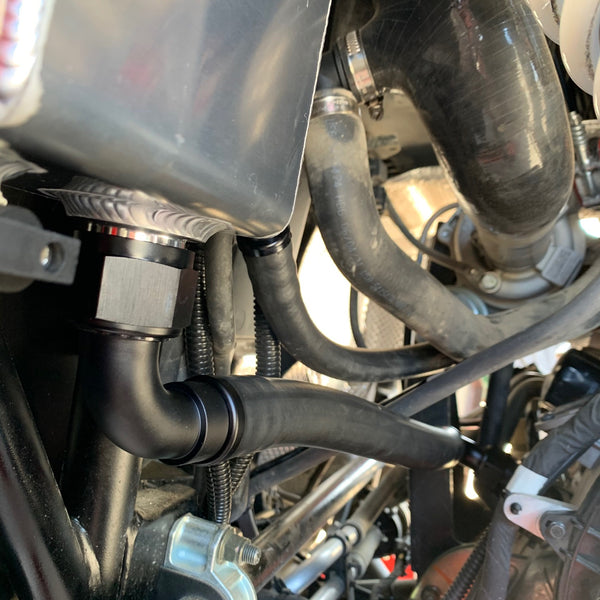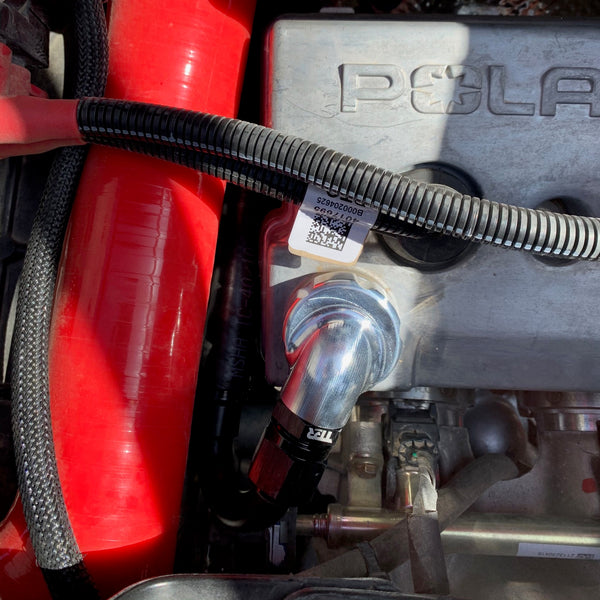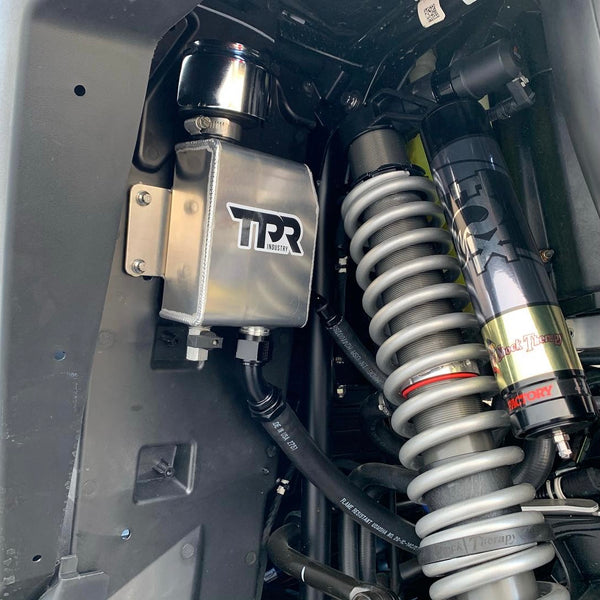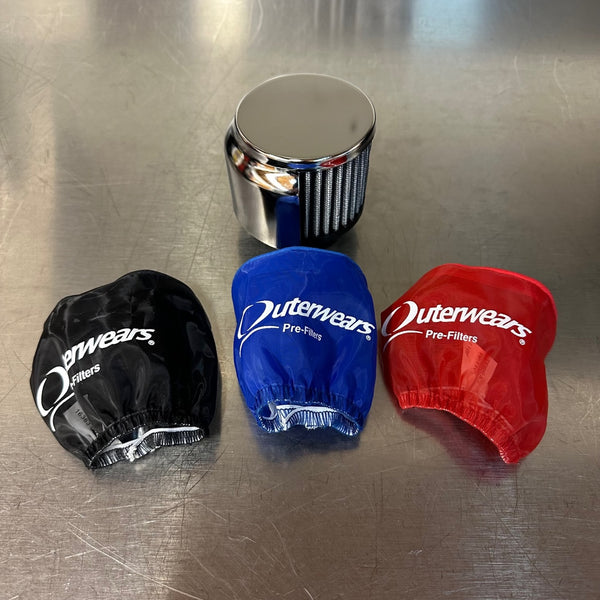 Black Breather Tanks now available -
Black anodized breather tanks are now available. Use part number: TPR006B for a kit with a BLACK breather tank. 
Polaris RZR crankcase breather kit -
RZR XP & XPT motors are notorious for excessive crank case pressure, the factory breather system recirculates crank case blow by back into the intake system from a breather box on the lower front side of the engine case.  
The main problem with this design is how close the breather box is to the oil pan allowing oil to be carried out with the crankcase blow by and then put into your intake charge and burned. XPT models are known for rod bearing failures due a number of issues, one being low on oil. XPT engines hold just over 3qts of oil, and can suck over a quart of oil through the stock breather system in a very short period of time depending on driving and terrain.
TPR Industry's breather system eliminates oil consumption and loss of oil being stored in a breather tank like most kits are designed. Our multi chambered tank is designed to catch oil and drain it back to crankcase through a big -16 AN line and a redesigned billet breather box. While still catching fuel and water vapor in a separate chamber that can be drained. We've also incorporated a -10 valve cover breather cap that replaces your oil fill cap (that will fit under your stock bed cover) allowing your valve cover to also vent to the breather tank. By adding the valve cover breather this cuts down on the volume of blow by coming from the front lower pick up point hence not being able to carry as much oil with it.
TPR's breather kit does not spray oil all over the back of cars or starve your motor for oil like some other aftermarket kits do.
Some XP non turbo models may require clutch intake hose modifications. All XPT & XPT-S models will require no modifications for installation. Kit will include all necessary parts and hardware for installation, including ARP stainless bolts. 
Extra length in hose is supplied for your proper fitting needs and will need to be cut to size. If you don't have a good set of cutters for the hoses, PVC pipe cutters are a good alternative.
Breather tanks in Pro XP, Turbo R, RS1 and universal kits will come with a flat plate welded on the back and will include all AN fittings and hose necessary for those applications.
Tanks designed and fabbed in SoCal, USA.
Breather block machined in house in SoCal, USA.
Breather cap machined in house in SoCal, USA.
ARP bolts are made in the USA.
Kit includes -
Tig welded aluminum breather tank - baffled
Billet breather block w/ ARP bolts
Billet breather cap w/ -10 an fitting
Billet intake plug
All fittings necessary for your kit
-16 pushlock hose (needs to be cut to size)
-10 pushlock hose (needs to be cut to size)
Hose clamps for chassis mount (XP/XPT/XPT-S models only)
Pushing hoses onto Push-lock fittings - 
It is highly recommended to use some sort of lubricant or silicone spray like Maxima SC1 on the push-lock fitting barbs in order to fully push hoses onto fittings all the way. Pushing them on dry could get them stuck on half way without being able to fully install them onto fittings. Hose clamps are NOT needed for the hoses. 
Fits Polaris RZR models -
XP1000
XPTurbo
XPTurbo-S
RS1
Pro XP
Turbo R
Outerwears® Pre-filters - 
Add a Outerwears pre-filter to keep your TPR breather tanks filter clean while out riding in dirty conditions. CLICK HERE or go under the Parts & Accessories tab.